Why Lighting Is So Important For Your Interior Design?
Lighting – An Integral Part Of Interior Design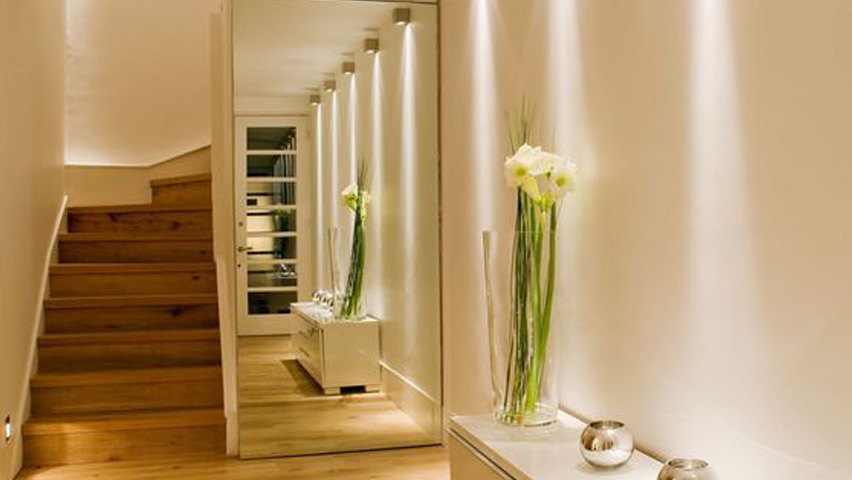 Lighting is an important aspect of interior design as it enhances the aesthetic appeal and creates the mood and ambiance of a living space. Lighting fixtures that illuminate a room creates a safe and comfortable environment besides adding style to the interior décor. Light is the main element that gives the space a special look and transforms it into a seamless combination of functionality and style. Besides playing a functional role it creates a visually dynamic space. Lighting can make or break the ambiance of a room.
Without proper lighting interior architecture cannot be experienced to the fullest. Good lighting assures a warm, inviting and functional atmosphere in your home. Hence selection of proper lighting is the key element in interior design as it enhances everything in a room – from the furniture, flooring, fittings to the finishes and textures. Creative use of lighting can in fact embellish your decorating project. Implement different types of lighting to make your home a beautiful showcase. The light fittings and lamps chosen to compliment the style and décor of the room have a potential to give life to the space. Yes, selection of the right lighting can help you achieve a perfect balance between style, comfort and practicality in creating aesthetically beautiful yet functional interiors.
Our sole focus is on achieving the best possible solution for our clients in terms of aesthetics, function, flexibility, cost and maintenance.
2018
Intercontinental Hotel @ Balaclava – Lighting consultancy for conference room lighting (Ongoing)
House Renovation @ Pereybere – Lighting consultancy for indoor lighting (Ongoing)
New house @ Moka – Lighting design and supply for indoor and landscape lighting (Ongoing)
House Renovation @ Phoenix – Lighting consultancy for indoor lighting (Ongoing)
New house 1 @ Mont Piton – Lighting design and supply for indoor and landscape lighting (Ongoing)
9 new villas (Les Villa d'Eden) @ Grand Baie – Lighting design and supply for indoor and landscape lighting (Ongoing)
New house 2 @ Wolmar – Lighting design and supply for indoor and landscape lighting (On going)
New house @ Grand Gaube – Lighting design and supply for indoor and landscape lighting (On going)
Chateau de Labourdonnais – Lighting design and supply for façade and landscape lighting (On going)
House renovation @ St Francois – Lighting design and supply for indoor and landscape lighting (On going)
House renovation @ Belle Mare – Lighting design and supply for indoor and landscape lighting (On going)
3 new houses @ Union Daruty – Lighting design and supply for indoor and landscape lighting (On going)
New house 2 @ Mont Piton – Lighting design and supply for indoor and landscape lighting (On going)
New House @ Charmose – Lighting design and supply for indoor and landscape lighting (On going)
House renovation @ Black River – Lighting design and supply for indoor and landscape lighting (Completed)
New house @ l'Etoile – Lighting design and supply for indoor and landscape lighting (Completed)
Appartment renovation @ 4bornes – Lighting design and supply for indoor lighting(Completed)
Office @ Pointe aux Canonniers– Lighting design and supply (Completed)
New house @ Gros Bois – Lighting design and supply for indoor and landscape lighting (Completed)
La Mariposa Hotel Renovation @ Black River – Lighting design and supply for landscape lighting (Completed)
New house 1 @ Wolmar – Lighting design and supply for indoor and landscape lighting (Completed)
2017
Renovation of Le Bar & Vou s@ Grand Baie – Lighting design and supply (Completed)
House renovation @ Pereybere – Lighting design and supply for indoor and landscape lighting (Completed)
House renovation @ Pointe aux Canonniers – Lighting design and supply for indoor and landscape lighting (Completed)
Renovation of colonial house @ Moka – Lighting design and supply for indoor and landscape lighting (Completed)
New house @ Grand Gaube – Lighting design and supply for indoor and landscape lighting (Completed)
New house @ Belle Vue – Lighting design and supply for indoor and landscape lighting (Completed)
New house in Matala – Lighting design and supply for indoor and landscape lighting (Completed)
House renovation @ Black River – Lighting design and supply for indoor and landscape lighting (Completed)
10 New appt @ Pointe aux Biches –Lighting consultancy (Completed)
House Renovation @ Troux d'eau Douce – Lighting consultancy for indoor and landscape lighting (Completed)
2 new apartments @ le Barachois, Tamarin – Lighting design and supply for indoor lighting (Completed)
Appartment @ Pointe d'Esny – Lighting Consultancy (Completed)
House @ Pereybere – Lighting consultancy for indoor and landscape lighting (Completed)